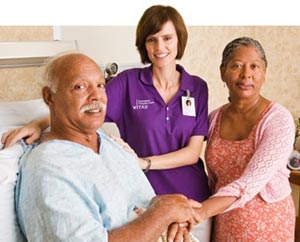 VITAS Innovative Hospice Care
VITAS Innovative Hospice Care®, a pioneer and leader in the hospice movement since 1978, is the nation's largest provider of end-of-life care. Our name is derived from the Latin word for "lives" and symbolizes the VITAS mission: to preserve the quality of life for those who have a limited time to live.
VITAS has enjoyed dynamic growth since its founding as a volunteer organization by a United Methodist minister and an oncology nurse. Today, VITAS employs 9,000 professionals who care for terminally ill patients daily—primarily in the patients' homes, but also in the company's inpatient hospice units as well as in hospitals, nursing homes and assisted living communities/residential care facilities. VITAS team members include registered nurses, licensed practical nurses, home health aides, physicians, social workers, chaplains and other caregiving professionals.
What Volunteers Do
Volunteers can help patients and families in many ways, including:
• Listening as a patient shares memories, feelings, fears
• Filling in to give a family caregiver a short, needed respite
• Calling patients and families to offer reassurance and comfort
• Providing administrative support in the VITAS offices
• Running errands, performing light housekeeping chores
• Visiting lonely patients in nursing homes
• Taking a patient on an outing
• Reading and playing games with patients
Specialty volunteers provide massage, play music and bring their pets to visit. We have volunteer opportunities for those who are homebound, including telephone visitation. Students find many opportunities to gain valuable experience while meeting their school's requirements.
All VITAS volunteers receive comprehensive training that includes hospice philosophy, caring for the terminally ill, and grief and loss education. We then match your talents and interests with available volunteer roles.
Further information can be found
here
.
Restrictions
Students interested in volunteering with VITAS must fill out several forms, including:
Main Application
Minor Permission Form
Confidentiality Agreement
Contact Information
For more info, contact:
Tamika Foust
Manager of Volunteer Services
312-997-7290
tamika.foust@vitas.com
Upcoming Events
For more opportunities, check the monthly calendar.