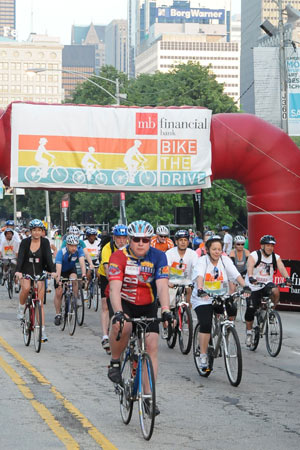 Active Transportation Alliance
Based in Chicago, the Active Transportation Alliance is a non-profit advocacy organization that works to improve conditions for bicycling, walking and transit and engage people in healthy and active ways to get around.
For nearly 25 years, we have led the charge for a transportation culture that values safety, health, sustainability and choice. Formerly the Chicagoland Bicycle Federation, we expanded our mission and created a new name to reflect and strengthen our work and vision to create opportunities for people to move and travel safely, actively and enjoyably.
The mission of Active Transportation Alliance is to make bicycling, walking and public transit so safe, convenient and fun that we will achieve a significant shift from environmentally harmful, sedentary travel to clean, active travel. We advocate for transportation that encourages and promotes safety, physical activity, health, recreation, social interaction, equity, environmental stewardship and resource conservation.
What Volunteers Do
Event Packet Pickup
Help distribute T-shirts and rider numbers to participants at several downtown locations during day and evening hours shortly before the event.
Event Set-up
Join our hard-working set-up crew the day before the event. Help set up tables, arrange T-shirt boxes, hang signs and unload trucks. This position requires lifting and/or manual labor.
Course Marshal
Be in the center of the action! Join a team that gives riders encouragement and directs them safely along the course. Course marshal teams are stationed along the entire length of Lake Shore Drive and communicate with volunteer managers.
Rest Stop Assistance
Be part of a team that sets up a rest stop and energizes participants with fruit, snacks and water. Volunteers may check in and out directly at their rest stop location. This is an ideal group volunteer opportunity.
Festival Help
Help our participants enjoy the experience. Volunteers are needed to help with final set up duties, day-of registration, T-shirt and rider number distribution and more. Positions for the early shift (4-8 a.m.) and the late shift (8 a.m.- noon) are available.
Restrictions
All Day-of-Event Volunteers are required to attend one Volunteer Orientation session prior to the day of the event.
Additional Information
Active Trans uses CPS Student Volunteers for three major events each year:
Bike the Drive
- Memorial Weekend
Boulevard Lakefront Tour
- Typically the end of August
Open Streets
- Occurs periodically throughout the summer
Details will follow when the 2011 Volunteer Schedule is finalized.
Contact Information
For more info, contact:
Kevin Dekkinga
Office Assistant
Active Transportation Alliance
9 W Hubbard Street, Suite 402
Chicago, IL 60654
P: (312) 427-3325 Ext: 239
F: (312) 427-4907
kevin@activetrans.org
Upcoming Events
For more opportunities, check the monthly calendar.